AGRO-Grid: Integrated Digital Platform for Smart Agriculture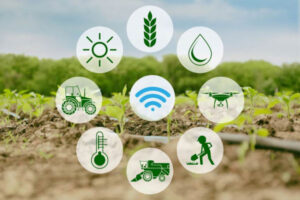 Download presentation (14MB Greek)
The pioneering AgroGRID services integrate the most modern communication technologies into primary agricultural production, seeking to identify the real needs of a crop, depending on the prevailing conditions in its environment, with the aim of applying the most appropriate cultivation practices at the plant level. This way simultaneously achieved both, savings and the most efficient use of the available resources, with significant reduction of production costs, as well as, minimization of undesired environmental effects, increasing crop yields and improving the quality of products in a sustainable manner.
We provide Precision Agriculture services using cutting edge methods and technological means (Satellites, UAVs/Drones, Internet of Things, Weather Forecast and Modification etc)
Precision agriculture is based on agricultural product manufacturing processes through management of field inputs, both spatially and temporally, according to the actual needs of the crop.
Modern precision farming systems rely on the capabilities provided by new technologies in conjunction with information systems such as:
the recognition of spatial and temporal variation, the identification of the real needs of a crop the development of technological systems for controlling crop inputs AND the collection, processing and transmission of a large number of data and information anywhere, anytime, in real time.
Η πλατφόρμα

AgroNIT

(Username:
demo_account

, Password:

demo1234

)
διαθέσιμη για συσκευές Android & iOS